During the COMPUTEX show on June 2014 ,MediaTek (MTK) has published LinkIt ONE and LinkIt Connect (or LinkIt Connect 7681) platform. LinkIt ONE has a higher specification performance, not only integrates and matches the communication function chip, but also has the compatible Arduino development environment,It raised a sensation shortly after published.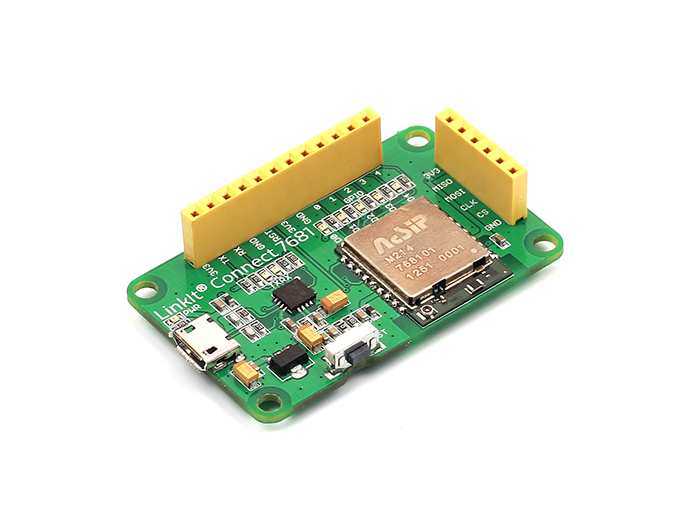 MediaTek published LinkIt Connect 7681 development platform on June 2014
In contrast, LinkIt Connect, which is relatively lower specification compared with LinkIt ONE and implemented by a single Wi-Fi communication chip, It has to be used in a UNIX-like environment (Linux or Cygwin on Windows), and they only can be used with a unique software development kit (SDK) , so it is not more popularity than LinkIt ONE. But overall, this generation of LinkIt did not get the popular acceptance and love of Maker.
The key of ESP8266's meteoric rise: development environment
In contrast, the same in 2014,Espressif, a new chip commercial in Shanghai,launched a super-cheap Wi-Fi communication chip --ESP8266. As the chip price is cheap and affordable, even through the card industry (Shenzhen AI Thinker) to make further into the board, the retail price is still around 5 to 10 dollars, It immediately aroused everyone's attention.
ESP8266 early also need professional software development kit for development, due to many people's attention and discussion, some netizens began to write Arduino compatible development environment; After compatible environment in place, ESP8266 development has become much easier,, so ESP8266 More popular. More and more users to launch the project, in different ways to write ESP8266 control program, such as the use of Lua language, Python language, JavaScript language.
But on the actual hardware specifications, LinkIt Connect and ESP8266 are not comparable, even in some ways more successful, such as more GPIO pin; However, because the software support and Austrian aid differences, follow-up attention is also different . The ESP8266 became popular, Espressif launched its replacement chip ESP32 in September 2016, in addition to the original Wi-Fi function, but also extended to provide BLE function

Comparison of time histories of tablet Internet chip platforms (Source: Lu Xiangyang)
It is clear from the above that"Software Development Environment Support"is an important factor in determining the development of the chip in the Momes.
So MediaTek recently launched (April 2017) LinkIt 7697. It is the same platform as LinkIt Connect, ESP8266, ESP32, and is a single chip implementation platform, and with the ESP8266, ESP32 also called"parity"and"extensive software development support.



The LinkIt 7697 Combo development board is on the shelves!

Processor core competition

First compare the processor core.

ESP8266, ESP32 is the Xtensa series core of Tensilica (acquired by Cadence by Cadence) in Cadence, which is a rare core type because Xtensa's features are flexible and its core design can be modified according to different customer needs . (Note 1)

Linkes Connect'is Andes' AndesCore N7 is also a special core. The LinkIt 7697 uses the ARM (ARM) Cortex-M4F core, is currently the most widely used processor core.

Widely used benefits a lot: ready-made software technology have many opportunities to become Ao aid resources, and can save to rewrite the transfer of effort, and then verify the effort, in particular, the existing paradigm, the library can also be more direct reference, call .If it is not already widely authorized to use the core, but also the best fixed standard core, LinkIt Connect use N7 to meet this condition.

But the flexibility of the core configuration, such as Tensilica or ARC, etc., the advantage is that you can match the wafer process and design, to optimize engineering features, such as higher integration , Lower power consumption, lower cost, etc .; but the software technology is not conducive to ecological management, because the result of flexible configuration, easy to bring hidden trouble that software is not compatible, and past software development investment can not continue .

Perhaps the adoption of Tensilica or N7 core, is to pursue a more affordable, high integration, low power consumption, and then can only rely on a wider range of mass production and sales of chips, making it the industry convention (de facto) standards, to encourage more software Developers, software technology industry turned, but overall, it has been difficult to compete with the Cortex-M series. The Cortex-M, which started in 2008, has been around for six years, although Tensilica has been doing business for the same period, but it has not been widely used.

The core comparison of the four parity networking platforms (Source: Lu Xiangyang)
Program language support comparison
ESP8266 support multi-program language ,In addition to the official C language, there are also Lua language (NodeMCU project), Arduino compatible Processing language (similar to C / C ++ language), JavaScript language, Python language, and even culture. Basics (BASIC).
However, these programming languages are text, digital development, for the lower age developers, it may need more affinity graphics, box-like development, such as Lego Mindstorm series (NXT / NXT2 / EV3 ), Or the Massachusetts Institute of Technology (MIT) Scratch language, ESP8266 is currently (April 2017) still lacks this kind of language.
In contrast, LinkIt 7697 takes Google's Blockly box development program language, renamed BlocklyDuino, which allows more younger and faster contacting and learning to develop LinkIt 7697, or let the industry as soon as possible to make proof of concept (POC) products to show to customers. More importantly, the use of Blockly / BlocklyDuino completed patchwork, the development environment can automatically translate and render other language code, such as Python, Arduino, etc., It contribute to advanced learning development.
LinkIt 7697 also supports the JavaScript language, This is quite handy for people who are already accustomed to using JavaScript to develop Internet front end (browser), backend programming language (server) , do not have to learn other programming language, you can develop LinkIt 7697 The control program.
LinkIt 7697 also supports Arduino compatible development, which is LinkIt 7697 can successfully enter the Momentum the most important point.
Finally, LinkIt 7697 also supports C language development, is the most official and most professional development methods, usually university or post-social professional developers to use.
In short, LinkIt 7697 can let the country, primary school children to BlocklyDuino puzzle way to develop control programs; and then the country, high school can use Arduino compatible environment development program; another high school, university, social professional stage can be used C language development program, Also in the professional also support JavaScript. In contrast, the ESP8266 lacks a graphical patchwork development, so the developer community is not easy to extend to a lower age.
| | | |
| --- | --- | --- |
| | ESP8266 | LinkIt 7697 |
| The official version of the platform circuit board | First, more help board, then have | Have |
| Professional C language development | Official support | Official support |
| Arduino compatible development | Have,Net friend Aid | Have |
| Other programming languages | eLua, Net friend initiated Python, Net friend initiated Java Script, Net friend initiated BASIC, Net friend initiated | BlockDuino,Official Java Script,Official |
Program Development Write Support Comparison (Source: Lu Xiangyang )
Other comparison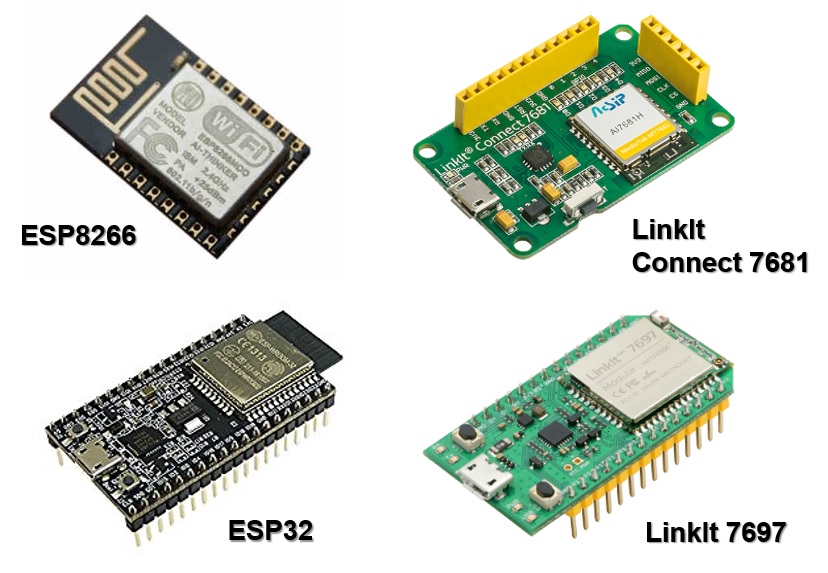 The development board mentioned in this article (Source: Lu Xiangyang )
In addition to the core and software Austrian aid, LinkIt 7697 in many ways also with the ESP8266, ESP32 Competition, such as both with Wi-Fi and BLE, beyond the ESP8266 and directed to ESP32; or LinkIt 7697 also supports Grove simple connector and IFTTT network Conditional service, which is some of the past features of ESP8266 (to be achieved through the Wio-Link board).
Finally, LinkIt 7697 is the unified board design, there are many board vendors to launch products on ESP8266, ESP32 , but the difference between the specifications, fear of the transfer of the program, LinkIt 7697 is no such problem. LinkIt 7697 is also equipped with hardware encryption and decryption design, making it more secure in wireless transmission, more opportunities to meet the commercial production needs, which is lack of ESP8266.
It can be seen, LinkIt 7697 also hope to become widely used parity wireless networking platform ,after the hardware and software design support are more complete in place, it is estimated that can be widely popular in Maker.
Note 1: another flexible configuration core is ARC, which was acquired by Virage Logic in 2009, while Virage Logic was purchased by Synopsys in 2010.
Author: Lu Xiangyang

Article source:http://makerpro.cc/2017/05/linkit7697-vs-esp32/